The Dank Crystal "Cascadia" Soy Candle w/Hidden Crystal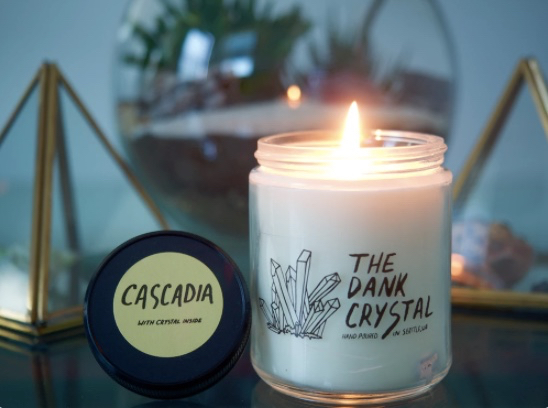 The Dank Crystal "Cascadia" Soy Candle w/Hidden Crystal
Made in Seattle, WA, these candles are lovingly infused with the dankest vibes. Each Dank Crystal candle is hand poured with soy wax in a 4oz, 6oz or 9oz clear glass jar, enveloping a purified crystal within. These candles will brighten any room and cover up even the dankest smells.
Don't let the words Patchouli + Bergamot scare you off from this scent. It's sweet and spicy tones ward off any preconceived notions you may have towards Patchouli, converting you to believe in the power of Cascadia, and declaring itself another Dank Crystal Best Seller.
Music Pairing: METZ, King Tuff, Protomartyr, Ty Segall

Other Available aromas:
Tobacco + Cedarwood "Alki"
Rosemary + Coconut "Trail Blazer"
Sandalwood + Coconut "Fire Starter"
Gardenia + Fir Needle "Golden Garden"
Patchouli + Bergamot "Cascadia"
Palmarosa, Fir Needle + Sandalwood "In the Pines"
How to get your crystal safely out of the jar:
Pour boiling water into the jar to fully cover the remaining wax. The wax will begin to melt and start floating to the top of the water. Carefully flip jar to free crystal.
Dank ideas for repurposing your used jars:
1. Build a succulent habitat or terrarium
2. Pencil holder
3. Store your rock collection
sold out